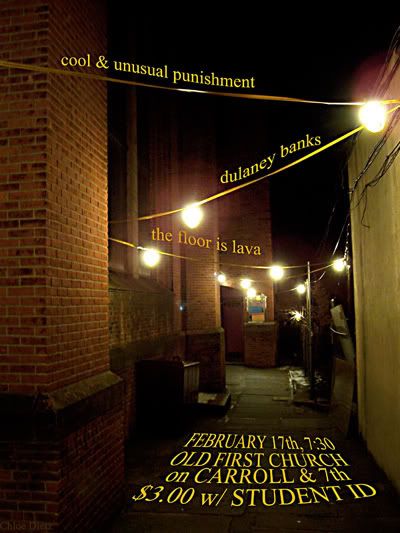 The Floor is Lava!(myspace.com/thefloorislavaband)--A band of bleeding raw garage, out to bring Rock and Roll back! (just played at The Knitting Factory Feb 2, bringing in over 100 people!)

Cool and Unusual Punishment(myspace.com/coolunusualpunishment)--Awesome indie trio whose members' diverse influences make their music a unique and mind-blowing experience.

Dulaney Banks(myspace.com/dulaneybanks)--A heart-breakingly soulful blues duo whose riffs make you wanna cry and whose singer makes you wanna sing too. It's hard to be a sincere, original blues band these days, but they've done it.

The Floor is Lava! and Cool and Unusual Punishment played a show at Dock Street last September, bringing around 75 people over from Brooklyn and Manhattan, in addition to many locals.